We just got a new 2014 spring shipment in of Saber Grills to suite all of your needs.
Saber VS Weber Grills Louisville Colorado

Information: Saber Catalog, Saber Grilling Guide, Science of Grilling Infrared, Saber Better Construction
The unrivaled Twin Eagles Cooking System, developed by award-winning Gas Engineer Dante Cantal, is what separates Twin Eagles from all other grills.
Every detail of the grill promotes this extraordinary Cooking System. Mixing direct heat from specifically placed ports and channels with radiant heat from ceramic briquettes allows your grill to reach higher temperatures and distribute heat evenly to the grates. Your grill will preheat faster, perform better and use less gas. Hexagonal grates retain and conduct more heat into your food and provide more food to surface contact to brand your food with thick restaurant style sear marks.
Drafting vents draw cool air from the bottom of the firebox keeping the heat above the burners where it is needed while keeping the air/gas mixture constant for a more efficient flame. Zone dividers enable you to grill effectively with one burner only or regulate each area at a different temperature when cooking different food items.
This highly engineered Cooking System will elevate your next outdoor grilling experience to new levels of performance.

Twin Eagles Grills - Louisville Colorado
Information: Twin Eagles Brochure, Twin Eagles Cooking System, Twin Eagles Charcoal Tray
When you fire up a Vermont Castings grill, you're getting more than just power. You're getting a premium product, designed and made in the U.S.A., that delivers precise results and makes every outdoor meal an event. From the latest convenience features to stunning style, our Signature Series grills have it all. No matter what you're cooking, you'll make a statement with a beautiful, new Signature Series grill.
Information: Vermont Castings Brochure

Dining al fresco has led to cooking al fresco. The moveable feast has moved to the great outdoors. And once again Viking leads the way with a full range of products to make your outdoor entertaining sizzle.

Whether you intend to grill it, smoke it, wok it, cook it on a rotisserie or in an oven, there's a Viking product with the professional performance to do the job right. There are Viking warming drawers to keep your food fresh after it comes off the fire, and Viking outdoor hoods to keep the fresh air fresh. There's a full line of Viking refrigerated storage and dispensers to make sure your favorite brew or nicely aged Chardonnay stays at the perfect temperature. And Viking stainless steel cabinets will keep you from running back and forth to the kitchen. All you need for a perfect backyard outing are some wonderful guests and a day of sunshine.
Information: Viking Brochure, Outdoor Kitchen Planning Guide, Viking Full Line





Napoleon®, a family owned Canadian company, has been providing home comfort for over 35 years, committed to designing and manufacturing only the finest high efficiency grills, fireplaces and outdoor living products you can depend on.

Superior technology, rock solid performance, balanced design and unparalleled customer service are the hallmark of the Napoleon® name. Your Napoleon® grill is designed to excel, offering a cooking experience as gratifying as the wonderful meals you will create. Discover the beauty and simplicity of Napoleon® innovation - the ideal complement to your outdoor living space.  
Information: Napoleon Grills, Charcoal Kettle Grill, Smokers, Mariage Series

Our three Primo models allow you to choose the one which best meets your needs. Two of our models feature our patented oval shape giving you maximum flexibility and unique accessories. Whichever Primo you choose, you'll feel confident you have:
the ability to cook a wide variety of foods including steaks, chicken, pork, turkey, fish, pizzas, vegetables…you name it, that have an unbeatable taste!
the ability to grill and/or smoke while maintaining a consistent low temperature or high temperature
even heating across the entire surface of the grill
the highest quality grill and smoker made with our SuperCeramics and in our manufacturing facility overseen daily by our Founder and business leaders
a Primo commitment backed by a 20 year warranty
and the only ceramic grill proudly made in the USA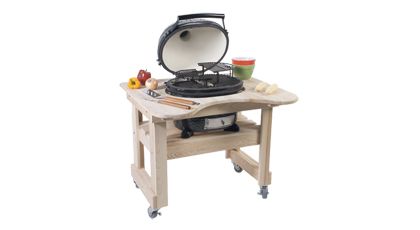 Primo Oval XL
The patented Primo Oval XL features up to 680 square inches of standard cooking surface! Other features include a cast iron chimney cap, easy to read thermometer, reversible cooking grates, stainless steel lower vent door and ceramic shoes. The Primo displayed here shows the optional Teak Cooking Station Table.



Primo Oval Junior
The patented Primo Oval Junior features up to 310 square inches of standard cooking surface! Other features include a cast iron chimney cap, easy to read thermometer, reversible cooking grates, stainless steel lower vent door and ceramic shoes. The Primo displayed here shows the optional Cypress Cooking Station Table.


Primo Kamado
The Kamado features 280 square inches of standard cooking surface! Other features include a cast iron chimney cap, easy to read thermometer, reversible cooking grates, stainless steel lower vent door and ceramic shoes. The Primo displayed here shows the optional rolling metal stand with collapsible wooden side tables.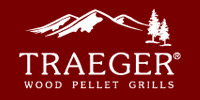 Taste The Difference
Food coming off a Traeger grill simply tastes better… It is just that simple! In fact, most people purchase Traeger products because they have already tasted the Traeger difference at a backyard BBQ at a friend's house or at a Traeger demonstration at a local business. But be careful - once you taste it, you'll be hooked…
With Traeger, you can have amazing barbeque in your own backyard. Apple smoked bacon, cherry chicken, mesquite flavored brisket, hickory ham, maple smoked salmon… your imagination just might be your only limitation.
Louisiana Grills Wood Pellet Grills are all made in North America. We take pride in knowing that our BBQs are made with quality and craftsmanship to be proud of. Located just North of the Minnesota boarder on the central plains of Canada, our new state of the art manufacturing facility is producing pellet BBQs that you can be proud to own. The steel is sourced from North American suppliers and most of the electrical components are sourced from the United States. With our grills you can smoke, sear, bake and cook the perfect meal for your family or the whole gang
If you have ever tried a "Wood Fired" steak, rack of ribs, burger, or pizza, you will understand why high-end "Wood-Fired" BBQ Restaurants, Steakhouses, and Pizza Places are cropping up across the country. These business owners have figured out that the old debate of Charcoal vs. Gas is over. Wood is king because it is the only fuel that adds real flavor to food. A pure hardwood, whether in stick, chunk, or pellet form is the only way to add competition quality flavor to your smoking, BBQ, and grilling.
Over the past several years, backyard pellet grills have emerged as a great alternative for the person who wants to create competition/restaurant quality food in the backyard. That quality can now be achieved without the hassle of starting a fire, dealing with the nasty lighter fluid taste, and then babysitting the grill to maintain proper temperatures. Pellet grills have push button controls that automatically light the fire and allow the operator to set the desired cooking temperature. Some pellet grills, like Louisiana Grills, now allow you to not only smoke and barbeque but also reach temperatures high enough to grill steaks, chops, or hamburgers at true grilling temperatures. While cuts such as, brisket, loin, ribs, and roasts are best cooked low and slow, any great chef will tell you that the delicious flavors of a steaks and burgers are not realized unless they are grilled at high temperatures.
Louisiana pellet grills are designed for people who want the convenience and quick heat-up of a gas grill where you can get home from work at 6:00, fire-up the grill, and be eating by 6:30. That same grill can be used on a lazy weekend afternoon producing world class smoked meats and barbeque. The quality of food that YOU can easily produce on a pellet grill that is burning 100% pure hardwood cannot be reproduced on any other gas or charcoal appliance.
The Country Smoker series has a grill in any size for your cooking needs, from 300 square inches all the way up to nearly 2400 square inches! These BBQs all give you the ability to smoke, grill, sear and bake your food. When you are finished cooking your perfectly smoked salmon you can bake your pies and cookies without overheating your house.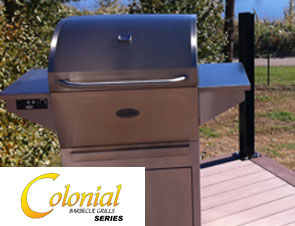 Our Colonial series of wood pellet grills are perfect for all season cooking. This line has a double-lined hood for greater heat retention so you'll use less fuel. Also comes with a fully automatic ignition for quicker starts. All Colonial units have built-in stainless steel side shelving. These models come in both Black and Stainless Steel.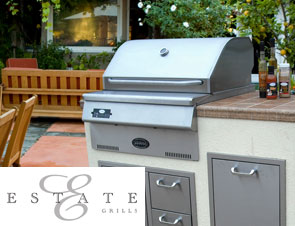 The Estate series has a heavy duty all stainless construction. Build your dream outdoor kitchen and then drop in a 24", 30", or 36" grill. Also the Estate series comes standard with our digital temperature controls. The Estate also uses the same fan-forced convection cooking as our other wood pellet grills.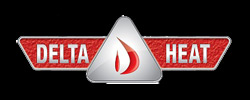 Delta Heat grills and accessories add luxury to your outdoor kitchen, while enhancing the experience of your backyard gatherings and celebrations. Combined elegance, performance and quality will ensure years of
enjoyment for you, your family and friends.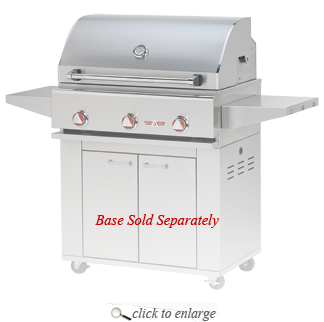 DHBQ38R 38" OUTDOOR GAS GRILL W/ IR Rotisserie (Top)
DHBQ32G 32" OUTDOOR GAS GRILL (Right)
• Direct heat grilling system with ceramic briquettes for even heat distribution
• Double walled seamless front hood with thermometer
• One piece front panel with polished hi-lites
• Two interior halogen lights
• Stainless steel round grates
• Three 20,000 BTU stainless steel burners
• 14,000 BTU infrared rear rotisserie burner
• Two position rotisserie with heavy duty stainless steel motor
• 9V battery electronic ignition
• 625 sq in. grilling space
• 210 sq in. warming rack With IR Rotisserie

Information: Delta Heat Brochure